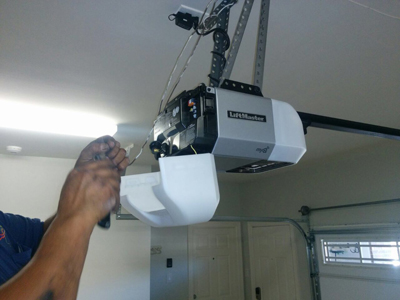 Garage door openers are basically the electric power of each mechanism. With electric motors that are connected with the door through a drive system and a trolley, the movement of the door becomes automatic. The opener can be turned into manual during power outage or emergencies by pulling the release rope hanging from the trolley. New age openers are more than just the means for electric operation. They have been developed greatly, open not only with remote controls but also wireless keypads, and lately they are also activated through internet. Their safety is ensured by the safety features accompanying every door opener and their good maintenance.
We offer opener repair services at once
Ensuring safety is of the utmost importance when it comes to garage systems. For this reason, all garage door repair services offered by our professionals are extremely thorough. When it comes to electric openers, the technicians of Garage Door Repair Ramsey are even more cautious. We install new openers with attention and by giving gravity to the safety features. We do the same during the maintenance of electric operators. Since we have experience in the service of Liftmaster, Craftsman, Marantec, Sears and Genie opener systems, we guarantee thorough inspections and perfect repairs.
The expertise of our team is equally valuable when there is a problem with your opener. We troubleshoot openers meticulously in order to discover the real problem, which makes the door dysfunctional. As specialists in garage door opener repair, we ensure safe systems free of problems. We respond as fast as we can when it's urgent, provide same day opener service and show up with a great number of tools in our trucks. Our organization and knowhow allow us to offer immediate garage door opener service and you can also trust that we are always efficient. When there is something wrong with the sensors or motor and the door doesn't close or open perfectly, rely on us for fast services.
Don't hesitate to call us for details!